Playground design unveiled at Sag Harbor Elementary morning program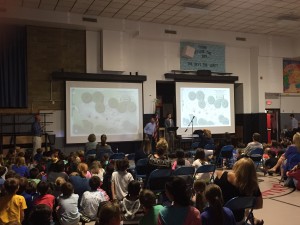 On Friday, June 10, Mashashimuet Park board members Gregg Schiavoni and Janine Rayano took the stage at Sag Harbor Elementary School's Morning Program to showcase the proposed design for the new Mashashimuet Park playground.  The designs were met with "ooos", "aahs", and cheers as different features were highlighted, like a netted trampoline, a boat with a lighthouse, and a whale with tunnels.
Two months prior, the students were all part of a "design day" where a representative from the playground manufacturer Leathers & Associates collected ideas that he incorporated into the prototype.