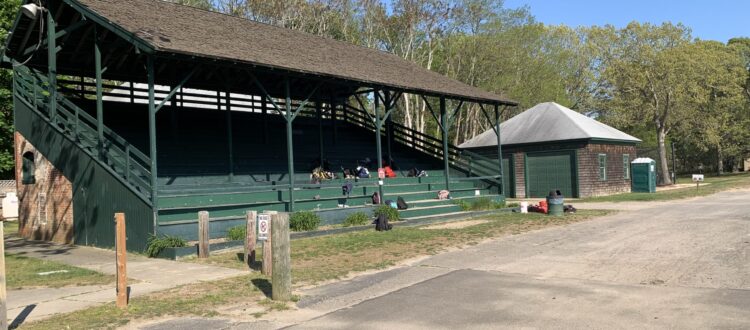 Mashashimuet Park to Host 5K Fundraiser to Renovate the Grandstand
The Parks & Recreation Association of Sag Harbor is excited to announce the launch of a new annual 5K walk/run to raise money for Mashashimuet Park improvements.  This year all funds raised from the 5K will go towards renovating the historic Mashashimuet Park Grandstand, which was built in 1908 and has served a variety of purposes for the last 100 years.  More recently, the Grandstand is a central gathering point for Pierson athletes preparing for a practice or a game.  As you'd expect with a 100-year-old structure, the Grandstand is in need of some repairs and refurbishment and with the community's help we can raise the funds needed to repair and upgrade the structure.
The inaugural 5K – "A Grand-run for the Grandstand" – will take place on Saturday, September 11 at 8:30 AM in Mashashimuet Park.  The race route will follow along various parts of the Park, into the trails and finishing at the Grandstand.  The race will be timed by Elite Feats and anyone interested in running or walking should register today at mashashimuetpark.org/5K.
Register Now!
Sponsorship Opportunities
Do you own a business and interested in helping improve Mashashimuet Park?  We are actively looking for 5K sponsors – please review our Mashashimuet Park 5K Sponsor Guide and email 5K@mashashimuetpark.org if you have any questions.
50/50 Raffle
The Park & Recreation Association is also running a 50/50 raffle drawing, which will have the winner announced at the conclusion of the 5K run.  Tickets are $5 each or 5 tickets for $20 and can be purchased at The Wharf Shop and The Sag Harbor Garden Center.